---
Staying Safe Online
---
What is internet safety?
---
Most of us are 'connected' via our laptops, mobile phones, tablets or personal computer. The potential for the internet to be a valuable and a fun resource for entertainment, making friends, keeping in touch and learning is huge. But if you use the internet, you could be at risk of illegal activity or abuse – be it bullying, fraud or something more serious. Unlike seeing someone face to face, on the net, people aren't always what they first seem.
---
In the same way you learn about safety when you leave the house, it is important to learn how to stay safe online. These are skills that will stay with you for life.
---
What is an internet leak?
---
An Internet leak occurs when a party's confidential information is released to the public on the Internet. The most common being personal information (photographs, videos), computer software and source code, and artistic works such as books or albums.
---
This type of leak can occur to anybody but it has been a particular problem with well-known stars in recent times.
---
Each year, many celebrities and important figures are involved in scandals. Most commonly it is either a sex tape, nude photo or email.
---
Two people have been arrested over Pippa Middleton's iCloud hacking in 2016. In 2014, the likes of Aubrey Plaza, Bar Rafaeli, Jennifer Lawrence, Kaley Cuoco, Kate Upton and Kirsten Dunst were targeted. Image sharing websites like Imgur and Reddit did their best to delete any photo uploaded of the celebrities. More recently, in January 2017, Boxer Amir Khan had a sex tape leaked which was allegedly filmed just weeks after his wedding in 2013.
---
Some of these leaks are as a result of something called 'revenge porn'.
---
What is revenge porn?
---
A law has now been implemented for anyone partaking in 'revenge porn'. Revenge porn is the publication of explicit material portraying someone who has not consented for the image or video to be shared. The law now makes it illegal to disclose a "private sexual photograph or film" without the consent of the person depicted in the content, and with the intent to cause them distress.
---
How can somebody be a "victim" or a "perpetrator" of revenge porn?
A perpetrator is someone who discloses a private sexual image without the subject's consent. i.e. the perpetrator turns it from being private image into a public one, with the intent to cause distress. The victim may have consented to the image creation but will not have consented to it being made public.
---
Android and smart phone apps
---
Meitu:
---
You've probably seen a Meitu selfie in your Instagram or Facebook feed in the past 24 hours. The app smooths skin, slims down faces, and even applies a layer of virtual blush and lip-gloss, adding a beautifying effect to your photos. And although the app has been popular in China for years, it only recently caught on with European users.
---
Security experts quickly pointed out that Meitu, which is free to download in Google Play and the App Store, requires way more data from users' phones than is necessary for a simple photo app and contains some allegedly sketchy code. Meitu isn't the only app that allows users to download it for free in exchange for their data.
---
It's normal for a photo app to require permission to access a phone's camera and camera roll, so that it can take pictures or edit ones already on the device. But the Android version of Meitu wants a lot more than that: the app can access information about what other apps us-ers are running, their precise locations, their unique device identifier numbers (IMSIs), call information, carrier information and wifi connections.
---
Musical.Ly App
---
Most popular with young children aged 8 – 12, users can film, stage, edit, and share music videos with others on this downloadable app. This app allows 'Musers' the ability to create and express themselves through videos and songs.
---
A number of local schools have received an email from Liverpool Cyber Safety Team about the app musical.ly , which is particularly popular amongst young girls aged eight to 12.The ECHO revealed that Calderstones School in Allerton had sent out a warning to parents , and now Bishop Eton primary in Green Lane and the Blue Coat School in Wavertree have also sent out warnings.
---
In 2017, police investigated a man in Leeds after he exposed himself on primary school chat. The unknown man joined the chat and performed a sex act. It has been noted that quite quickly, "friends of friends of friends" are able to join group chats, even if the children participating do not know them.
---
It is strongly encouraged that parents review and adjust privacy settings and just like other apps, monitor children's accounts and report inappropriate behaviour.
---
Tinder/Grindr
---
Tinder (opposite sex) and Grindr (same sex) are both popular dating apps
---
In 2016, a man named Stephen Port used Grindr and other gay dating apps, to lure victims to his home, where he spiked their drinks before abusing and killing them. Port dumped his victims in Barking, east London, then told 'wicked and monstrous lies' that meant their families were told by police that their loved-ones had killed themselves or died accidentally. He now has a 'life-time' sentence.
---
From January 2016, Tinder received a "push" notification promising 2x or 3x the likelihood of a match in their area. This means, if another user is close by, you will receive a notification and you are able to contact whoever is an active user of the app, if you swipe right.
---
Following from the Stephen Port incident, dating app users have been warned of the dangers. 55 reports of crime in England and Wales mentioned Grindr/Tinder.
---
Safer Internet Day
Tuesday 7th February 2017
---
'Be the change: unite for a better internet'
---
What is Safer Internet Day?
---
Coordinated in the UK by the UK Safer Internet Centre the celebration sees hundreds of organisations get involved to help promote the safe, responsible and positive use of digital technology for children and young people.
---
The UK Safer Internet Centre – a partnership of three leading charities; Childnet, the South West Grid for Learning and the Internet Watch Foundation – provide resources for children, schools and families, and tools for getting involved.
---
Useful links to help you stay safe online
---
Police Safety Centre
Childline
Stay Safe Online
Get Safe Online
End Revenge Porn
---
A comprehensive guide to online privacy, put together by our friends at Cloudwards, can also be found here:
---
Cloudwards Online Privacy Guide
---
---
---
President Trump – How He Will Change The World
---
The election of Donald Trump on 8th November disappointed many people, in America as well as around the world. This was as a result of many divisive comments made by Trump that came to light during the campaign, which were seen as discriminatory and at times racist or misogynistic.
The US President is often described as "the most powerful man in the world", due to the responsibility he has & the fact that his policies affect many countries and people. For that reason, there has been a lot of scrutiny on Trump's first decisions as President and a lot of international protests at what he has done.
---
Women's March
---
On 21st January, women around the world joined together in a series of marches which were primarily in protest at the inauguration of Donald Trump as President of the USA. There were estimated to be nearly 700 different marches across the world, in countries on every continent. The majority took place in America, with the biggest in Washington where President Trump had taken charge of the country the previous day.
In the UK, there was a march through London which was attended by more than 100,000 people. All the marches were intended to be peaceful protests, with the rights of women acting as the main agenda, although other issues were campaigned about as well.
---
What was the purpose of the Women's March?
---
Despite 42% of women voting for Trump, his election was widely viewed as being a step back for women's equality, especially as he defeated Hillary Clinton, who was aiming to be the first female US President.
---
As well as a video emerging prior to the election which showed Trump making sexist comments in the past, the executive orders he has introduced since taking power have been described as promoting more discrimination. For example, in this picture, Trump is signing a bill which was considered anti-abortion – the fact that he is doing so surrounded by only other men & no women has been widely criticised & used as evidence of a misogynistic approach.
---
Refugee Travel Ban
---
Another policy to have consequences for people around the world is the banning of refugees in America as well as restricting arrivals from seven countries in Africa and the Middle East. Trump has said that this has been done in order to protect the country from the possible entry of terrorists, as he believes those seven countries are the biggest danger to America.
---
However, the decision has been criticised by many people, including the ex-President Barack Obama, who said that it was against American values to ban people dependant on their nationality. Olympic champion Sir Mo Farah, who was born in Somalia, one of the seven countries involved, was also critical as he was unsure whether he could enter the USA, where he lives and trains.
---
President Trump says that he is just following promises that he had made during the election campaign & so feels that his ban is supported. However, it is a move that has caused a lot of division in the USA, where again there were large protests by people who feel that he is incorrectly discriminating against Muslims. There has been a legal challenge against the law, which has led to two Iraqi men being released, who had been detained at JFK Airport in New York, having arrived in America whilst Trump was signing in his executive order.
---
Mexican Border Wall
---
The other main executive order that Trump has introduced is the construction of a wall across the border between the USA and Mexico, in order to try and supposedly prevent the illegal entry of Mexican immigrants to the country.
---
President Trump had promised to build the wall during the election campaign & had insisted that Mexico would pay for it. However, so far Mexican leaders have refused to agree a payment for the wall and planned talks between President Trump and Enrique Peña Nieto, the Mexican President, were cancelled due to the argument between the two countries.
---
It is thought that America may introduce a tax on Mexican imports to fund the construction of the wall.
---
Liverpool & the UK's Anti-Trump Protest
---
Liverpool had its own protest against President Trump's policies, with thousands of people attending a rally outside St George's Hall on Monday 30th January.
---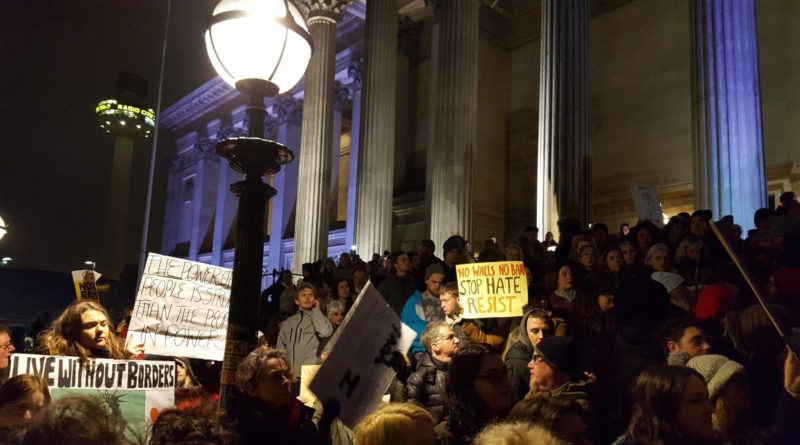 ---
In addition to this, there has been an online petition set up to postpone a state visit to the UK by President Trump. Although this is something that has been traditional for American Presidents in the past, it is usually invited to them after a couple of years of being in charge. Campaigners say that it is too early for him to receive this honour, before he has proven himself and when his early decisions have been so controversial. Over 1.5 million people have now signed the petition.
---
---

---
FGM
---
What is FGM?
---
Female genital mutilation (FGM) is the partial or total removal of external female genitalia for non-medical reasons. It's also known as female circumcision or cutting.
There are no medical reasons to carry out FGM. It doesn't enhance fertility and it doesn't make childbirth safer. It is used to control female sexuality and can cause severe and long-lasting damage to physical and emotional health. FGM is child abuse. It's dangerous and a criminal offence.
---
"All women and girls have the right to control what happens to their bodies and the right to say no to FGM"
---
Why FGM is carried out
---
FGM is carried out for various cultural, religious and social reasons within families and communities in the mistaken belief that it will benefit the girl in some way. There are no health benefits of FGM. FGM happens to women and girls in adolescence, childhood and sometimes as a baby.
---
Some of the reasons given for the practise of FGM are;
---
A condition of marriage
Protecting Family Honour
Preserving Tradition
A passage into womanhood
Cleanliness
Ensuring a woman's chastity
---
Forms of FGM
---
There are four main types of FGM:
---
Type 1 (clitoridectomy) – removing part or all of the clitoris
Type 2 (excision) – removing part or all of the clitoris and the inner labia (lips that surround the vagina), with or without removal of the labia majora (larger outer lips).
Type 3 (infibulation) – narrowing of the vaginal opening by creating a seal, formed by cutting and repositioning the labia.
Other harmful procedures to the female genitals, including pricking, piercing, cutting, scraping or burning the area.
---
Effects of FGM
---
There are no health benefits to FGM and it can cause serious harm, including:
---
constant pain
pain and/or difficulty having sex
repeated infections, which can lead to infertility
bleeding, cysts and abscesses
problems passing urine or incontinence
depression, flashbacks and self-harm
problems during labour and childbirth, which can be life-threatening for mother and baby
Some girls die from blood loss or infection as a direct result of the procedure.
---
FGM is often performed by traditional circumcisers or cutters who do not have any medical training. However, in some countries it may be done by a medical professional.
---
Anaesthetics and antiseptics aren't generally used, and FGM is often carried out using knives, scissors, scalpels, pieces of glass or razor blades. FGM often happens against a girl's will without her consent and girls may have to be forcibly restrained.
---
Where FGM is carried out
---
Girls are sometimes taken abroad for FGM, but they may not be aware that this is the reason for their travel. Girls are more at risk of FGM being carried out during the summer holidays, as this allows more time for them to "heal" before they return to school.
---
If you think there's a risk of this happening to you, you can download the Statement Opposing FGM and take it with you on holiday to show your family.
Communities that perform FGM are found in many parts of Africa, the Middle East and Asia. Girls who were born in the UK or are resident here but whose families originate from an FGM practising community are at greater risk of FGM happening to them.
---
The law and FGM
---
FGM is illegal in the UK. It is an offence to:
perform FGM (including taking a child abroad for FGM)
help a girl perform FGM on herself in or outside the UKhelp anyone perform FGM in the UK
help anyone perform FGM outside the UK on a UK national or resident
fail to protect a girl for whom you are responsible from FGM
---
Anybody found guilty of an offence under the Female Genital Mutilation Act 2003 will be liable to a maximum penalty of 14 years' imprisonment or a fine or both.
Prevalence of FGM in England and Wales
---
A 2015 study estimated that:
---
approximately 60,000 girls aged 0 to 14 were born in England and Wales to mothers who had undergone FGM
approximately 103,000 women aged 15 to 49 and approximately 24,000 women aged 50 and over who have migrated to England and Wales are living with the consequences of FGM. In addition, approximately 10,000 girls aged under 15 who have migrated to England and Wales are likely to have undergone FGM
---
The study also reported that:
---
women who have undergone FGM do not only live in urban centres in England and Wales: while many affected women live in large cities where migrant populations tend to be clustered, others are scattered in rural areas
no local authority area is likely to be free from FGM entirely: in many areas, the estimated prevalence is low, but there are still some women who may be affected by FGM
London has the highest prevalence rate in England and Wales with an estimated 2.1% of women affected by FGM
outside London, highest estimates were for Manchester, Slough, Bristol, Leicester and Birmingham
---
In 2007 a support clinic based in London was opened for women who have undergone the treatment but due to funding cuts in the NHS the clinic will be closing after March 2017. A petition to save the service has gathered more than 14,000 signatures
---
England had 5,700 recorded cases of FGM in 2015-16
---
Liverpool FGM
---
Female Genital Mutilation and Multi-Cultural Women's Health Advisory Group
---
The Group was formed in 1996 with the help of the Liverpool Health Authority and Primary Care Group Liverpool Central.
---
The group advise Health Authority, PCTs and local health providers on the health needs of women from different racial, cultural and religious groups.
---
There is a FGM clinic based in Liverpool Women's hospital with support of a dedicated female consultant clinics.
---
Useful links/Contacts
---
NSPCC FGM Helpline = 0800 028 3550:
---
Savera Liverpool – 07716 266 484
Savera Liverpool help people who are at risk of FGM, forced marriage, honour killings or are experiencing domestic abuse.
---
Liverpool Womens Hospital
NSPCC
NHS
NHS
Victim Care Merseyside